Hi Friends,
This entry is to announce two exciting features in Apollo:
Advanced notification options (with daily digests available!)
Possibility to see, in My tasks, tasks assigned to "Anyone" or to your company
As a member of staff at Applicom, I got to use these features well in advance and I just couldn't believe how much they helped me in my day-to-day work. I can see why a lot of users requested them!
So, here are the details.
Advanced notification options
This is a big step forward for Apollo. If you go to Personal Settings -> Notifications, you will see something like this: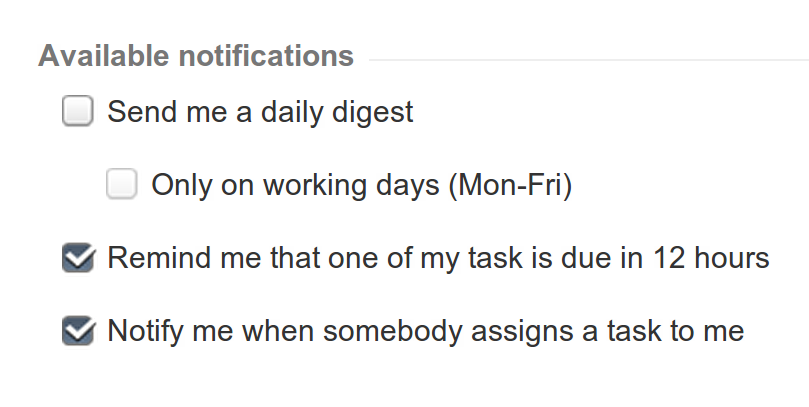 First of all, note the email address there. As the help says, "This is the email address where you will receive notifications for this workspace". Going one step back, you know that you can login onto multiple workspaces using your Applicomhq login name/password pair. This is very convenient: you only have one Applicomhq account to remember and manage. However, imagine that you have two workspaces, one owned by your company and one owned by you; you will probably want to receive email notifications to different email addresses, to keep things separate. This new option allows you to do just that: you can now decide where notifications are sent per workspace. Two important notes: first of all, by default the workspace-specific email address will always default to your Applicomhq email address; second, you can change your "master" Applicomhq email address by going to Settings -> Account.
But there's more: look at the "Available notifications" section, where you are given a good set of options. The most important one is the "Daily digests". I find them immensely useful: it's a daily email that will give you a detailed list of anything outstanding in your workspace: personal, project and contact tasks. You can elect to use receive these digests only Mon-Fri (as you would for a work-related workspace).
The last two options allow you to receive reminders for tasks due in less than 12 hours, and receive notifications when somebody assigns you a task. These options will give you great flexibility in terms of what you will receive -- and even better, they work at workspace-level.
Possibility to see, in My tasks, tasks assigned to "Anyone" or to your company
The heading says it all! One of the main complaints we got, in terms of tracking tasks, was that things assigned to a company or to "anyone" were hard to track: you had to open the right project and task list and find them. Users told us that they considered tasks assigned to the company, or to anyone, as theirs. So, we did it: if you go to Settings -> Other settings, you will see this:

From here, you can decide what you will see in My Tasks.