Hi Friends! We introduced two features: a Basecamp-compatible data import, and a comprehensive data export for Apollo. These features are amongst the most-wanted ones, and have far-fetching implications.
Migrating to Apollo can be challenging: you might have several projects with valuable comments in a different project management system. This is why we worked really hard to write an import procedure that allows you to import your project from a Basecamp-compatible XML file: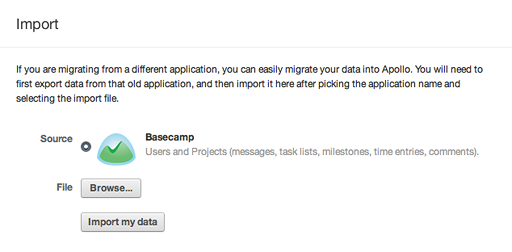 This means that your projects, notes, milestones, etc. will appear on your Apollo workspace.
While we did all the coding, we need to thank our beta testers who provided us with their precious exports, and invaluable input that made the script a thousand times better -- thank you! Hopefully, this will ease the transition to Apollo for all those busy users who don't want to use Apollo for their existing projects.
On a similar note, we also wrote a script to export all of your Apollo data in an XML format. Here is what the export procedure looks like: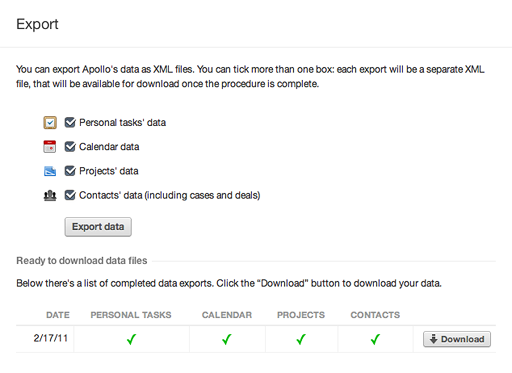 There are several reasons why you would want your data this way: Apollo is a hosted application, and you will probably feel safer if a copy of your information is safe and sound in your hard drives. A local backup is always a good policy, if anything to give you some peace of mind.