If you used Apollo for a while, reading the title is probably enough to go "Oh wow, that's good news". If you are reading it much later than May 2012, then you are probably reading old news... but still worthwhile knowing!
Improved bulk editing of time entries
First of all, we "completed" our work with bulk editing of time categories: it's now possible to do so if you open up a project and then click on the "Time" tab within that project. The former limitation (where bulk editing was only possible from the "Time" tab in the Projects Dashboard) is gone. See it for yourself: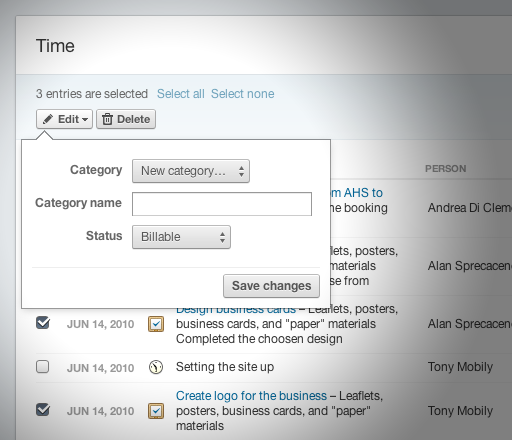 Improved uploads
One of the underlying libraries we use in Apollo was updated; as a result, people could finally upload multiple files at the same time, simply by selecting several files from their browsers — IF (big if) their browsers supported HTML5. This had interesting implications:
Apollo's behaviour wasn't consistent. Basically, there were two different, and highly incompatible, ways to upload files. If you used Chrome and picked one file, and then went back to the browser and picked another file, your first file was no longer there. However, if you used IE, picking the files one after the other was the only way to upload multiple files.

If you used Chrome, and the files you wanted to upload were in different spots in your file system, you basically could not, in any way, upload both of them under the same comment. This doesn't seem like a big deal — until you actually need to do so, and end up having to make a temporary folder with all the files to be transferred...
This confused a lot of our users.
We decided to face the problem head on. So, ladies and gentlemen, welcome to our brand new file uploader: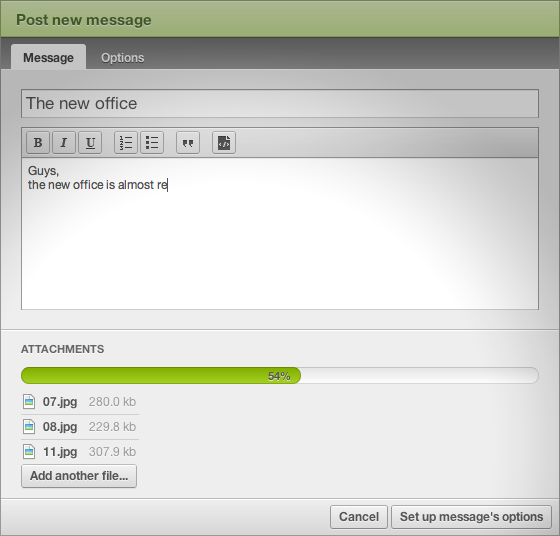 It has a consistent behaviour, and (more importantly) you can write your comment while your file is being uploaded. Eventually, it will be improved to support the extra features everybody is expecting (see: a large "drop" area to make drag&drop work).
Categories for logged time
This is the part that will interest a lot of our current users: yes, time entries can now have their own category. This is one of those features we felt resistant to; however, such a lot of users asked for it — and provided meaningful use cases for — that in the end we decided that our users were 100% right.
You can now go to Settings > Defaults > Time Categories and set your default time categories.
When you log time, you can then decide what kind of activity it was related to.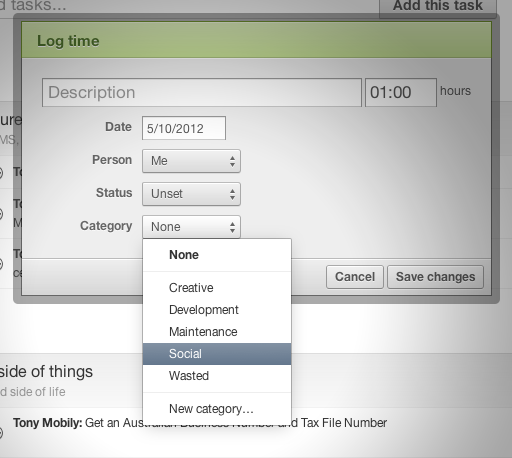 This will show up in your reports: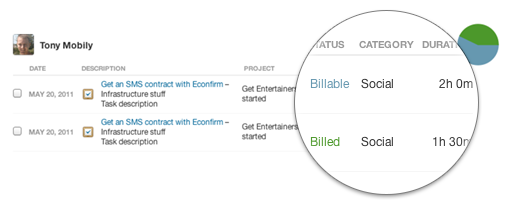 As always, please let us know if we missed anything and if things are working for you.
Thank you for listening!