Project templates was one of the most requested features in Apollo (up there with iCal support and reply-by-email). Well, I am very proud to announce that Apollo now has project templates. I was having a discussion with Andrea a few weeks ago, about project templates. I said something along the lines of "Well, it's pretty straightforward right? I mean, a template is just like a normal project, yes?" Andrea answered instantaneously: "What about task's deadlines that need to be different? And the activity log that needs to be generated? And the Files section that doesn't apply? And the --". I interrupted him: he was right. Project templates were tricky at best. Well, ladies and gentlemen: here they are, project templates in Apollo! Click on Projects on the left, and then on the Templates submenu: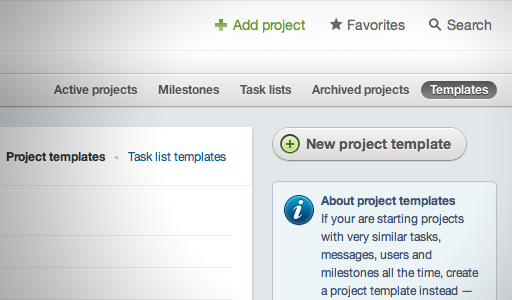 You will see a list of existing templates:

Click on "New project template": you will be asked your template's name, and -- once you've entered it -- it will open up the template for you. Project templates are like projects, although you don't get the "Activity", "Files", and "Times" as they only really apply to "real" projects. You can tell this is a template by the tag next to its name: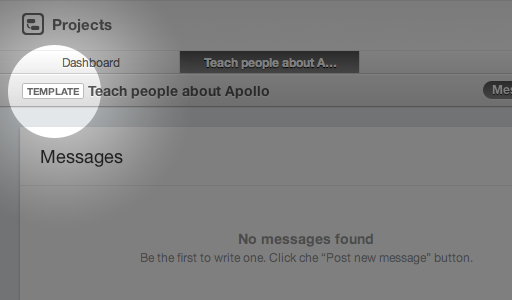 You will notice that you have some limitations in terms of deadlines too (absolute dates wouldn't make sense in a project template!).
Once you've created your template, just click on "Add new project" (once back in the projects' dashboard) and and tick "Use a template". At this point, pick your template and enjoy your new project based on the picked template.