Hi there,
The holiday has definitely been good for us: this week, we have released tons of new features which were requested by users over the last few months. I will break up the list in two blog entries.
Search contact notes
We now allow users to search notes for contacts. This strengthen further the CRM side of Apollo, which now allows you to look up old conversations with your contacts by typing a few relevant words: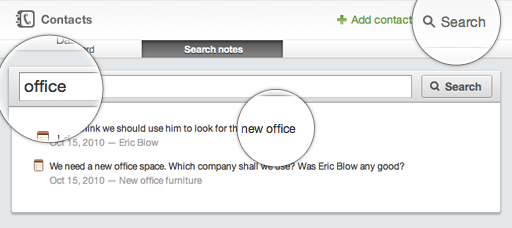 Improvements on notifications
We have improved email notifications in Apollo in several areas. First of all, it's now possible to add private comments to milestones: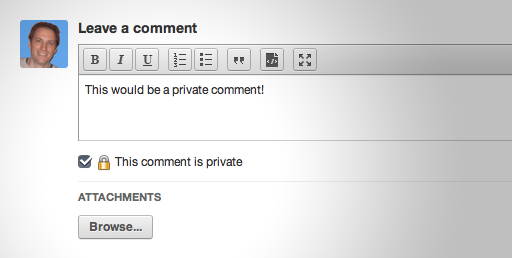 Before now, you could only do this with message comments, whereas milestone comments had to remain public.
Speaking of permissions, we were pointed out that if you have a public project message, replying to a comment using the "reply-by-mail" feature in Apollo always results in a public comment being added. The problem is that you might receive an email notification for a private comment. Using reply-by-mail, since the project message itself is public, your reply will also be public. This could potentially be pretty bad, as everybody (including external users) would be able to read your reply, possibly working out the contents of the (private) comment you were replying to. So, we added this disclaimer to private comments added to public messages:
Watch out! This is a PRIVATE comment added to a public message. If you reply to it by just hitting "reply", your comment will be "public" (which is possibly something you want to avoid). To add a private comment to this public message, you will need to login onto Apollo
Another improvements is the ability to notify people by email if a message is edited.
This is a very important feature, if you want to make sure that your users know about the latest version of a message and if you want to keep your email trail up-to-date.
Finally, when you receive a notification email with a message or comments with attachments, you are now able to see exactly what files were attached: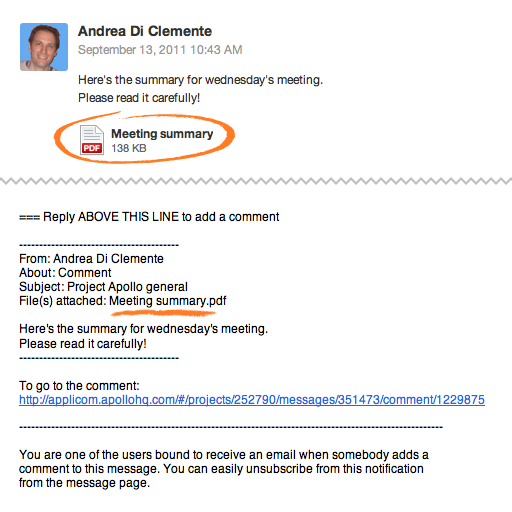 No doubt this small improvement will be most welcome by people who find attachments critical in their daily use of Apollo (for example graphic designers).
This is the first installment of the many features that made it into Apollo this week. Can you work out what the missing ones are?