Hi there,
Apollo is under very active development. Looking at our changelog, you can see that we are constantly adding new features, updating existing ones and fixing small problems. Reading the changelog is definitely boring -- plus, you don't get to see screenshots and pick the best of the best! So, here we go. Here are some of the new features that made it into Apollo yesterday:
Mark as unread
We all do it: we all want to virtually go back in time, and mark a message as unread so that we can answer it later. It's now possible to mark comments of messages, tasks, milestones and contact notes as unread:

Auto-subscribe to all new messages
Project messages are a really important tool to keep communicating about a project. Many users requested the ability to be notified every time somebody posts a project message, so that they can always be kept in the loop -- which is very fair! So, here it is as an option in Settings > Notifications:

Admins can unsubscribe mortal users
Users can subscribe themselves to tasks so that they receive notifications when somebody adds a comment. Some admin users want to be able to unsubscribe users in some cases: they can now do it, simply by clicking on "Unsubscribe" in the list of followers: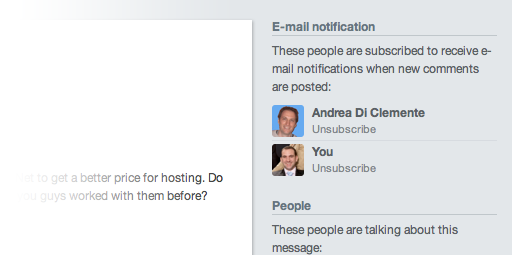 Comment notifications for milestones
Until now, it wasn't possible to subscribe to comments to milestones and receive notifications. This limitations is now gone: users can now receive a notification when somebody comments on a milestone.
There is more to come: other improvements made it into Apollo, especially in terms of UI. Can you spot what they are?
See you soon!