Writeboards are one of the most exciting features in Apollo this year. As you probably guessed, we use Apollo internally to coordinate Apollo's development and tasks. Writeboards were one of those features that was meant to be developed "slowly", without hurry, as they were quite involved in terms of UI and development.
AS soon as they were available as betas, something predictable but not-so-unexpected happened: we started using them; and no, they weren't polished, tested and fully functional. And yet, some projects' details started getting stored in them, as everybody found them immensely userful.
Needless to say, we put extra resources into developing them, and released for you writeboards: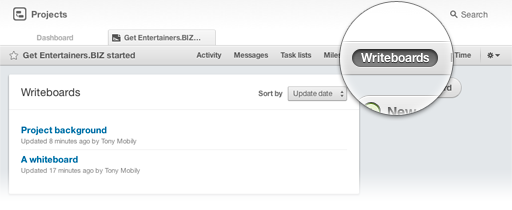 As you can see, writeboards fit very nicely into the whole Apollo scheme of things: if you used Apollo's messages, then you also know how to use writeboards.
When you create one, you have a nice, big textarea where you can type information about your project:
The formatting guide is always there on the right, for when you forget how you applied that particular formatting in Markdown. (Oh yes, the writeboards use Markdown as their formatting style).
Just like comments and messages, you can mark them as "private"; unlike anything else in Apollo, you can decide if you are creating a new revision, or if you want to simply overwrite the previous one:

Notifications work the same as they do with messages; however, users get notified both if there is a comment, or if a writeboard is modified.
I am sure you will enjoy writeboard as much as our team did. We can finally celebrate and use a finished and tested feature, while working on our Apollo writeboards.
Enjoy!