A few users pointed out that they are getting a strange warning: if they use something "quite recent" like Microsoft Internet Explorer 8, when they log into Apollo they get a big warning telling them to upgrade to a better and faster browser.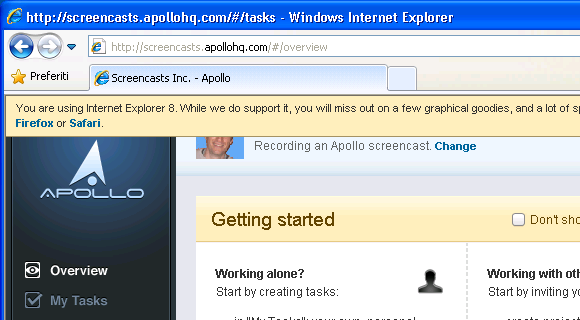 It reads like this:
You are using Internet Explorer 8. While we do support it, you will miss out on a few graphical goodies, and A LOT of speed. You should consider upgrading to a modern browser like Chrome 5, Firefox 3.6 or Safari 5.
The message is clear: you don't have to upgrade, but you really ought to.
We considered adding a "Don't show this again" button, but in the end we decided against it: we think that such an important message should be repeated as much as possible in order to be effective. Users will have to click on the "close" button to get rid of this message after every single time they log in – which is nothing compared to the time they waste waiting for IE 8 to render Apollo's HTML or execute Apollo's Javascript.
So, you can't switch off the message. As simple as that.
IE 7's users will get this message: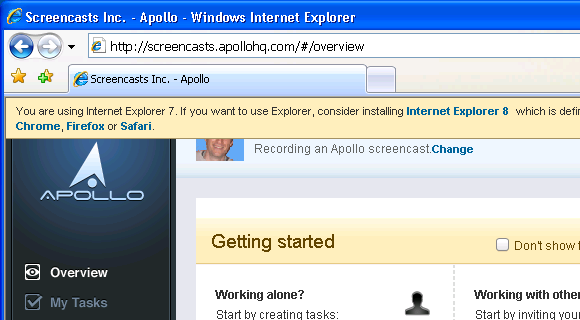 They are using a really old browser, so we tell them that they should upgrade to IE8. So, next time, they will get a new message – the one you get when you use IE8!
Why? Do we really hate IE 7 and IE 8 users?
No. IE 8 is a totally decent browser for those users who simply need to browse the web every now and then. However, with Apollo we are talking about a real application: an Internet browser with bugs tends to create a lot of trouble to our users – and therefore to us.
The thing is, we love all of our users. IE 8 and (even more) IE 7 are a software developer's nightmare – I may sound unreasonable, but if you have ever developed a single page web application as complex as Apollo, you know exactly what I am talking about. While we could potentially spend a lot of extra time writing and (more painfully) maintaining code that will make everything look great in IE 7 and IE 8 as well (without breaking other browsers, if possible)... we won't do that, because we love our code and would rather see it clean, lean and beautiful – and with fewer bugs.
Apollo is a Javascript-intensive application. Its code, including Dojo, is now about 86000 lines of javascript code (eighty six thousand!) on the client side. This is a total breeze for Chrome 5, Safari 5 and Firefox 3.6. But, it's a huge kick in the stomach for IE7 and IE8.
Moreover, the kind of tweaks necessary to make things work on obsolete and sub-standard browsers tend to make our code much harder to fix and maintain; We don't want Apollo to be developed more slowly, and we'd like to avoid going to great lengths to cope with IE inconsistencies.
If the world didn't have competition in the web browser market, we would have a big problem: the world would probably still be stuck with Internet Explorer 7, with Internet Explorer 8 being only slightly better. But, we are lucky: there are great, fast and lean browsers out there which will run Apollo, and many other great web applications, fantastically well. And that's why we recommend them – and will try to talk users out of using IE 7 and IE 8 as loudly and consistently as possible.
(We also secretly love the incredible speed of Google Chrome, which makes Apollo look like a native application, but that's our personal bias!)