One of the most requested features as far as Apollo's CRM was the possibility to manage contact tags within Apollo.
One typical scenario is having a contact with a mispelled tag: Apollo's auto-completion basically means that that spelling mistake was given as an option to the users every time.
Implementing tag management was trickier than one can imagine. One of the big issues is about visibility of contacts. For example, you might have Contact X with tags A, B, C and Contact Y with tags C, D and E. Assume you only have access to contact X. If you change tag A, it's all fine. However, if you change tag C, things get interesting: users who can access contact Y shouldn't suddenly see that tag change.
That's why we developed a pretty intelligent system, where if you change tag C, a copy of the tag is created, and only applied to the contacts you can access.
To manage tags, just go to Settings > Tag management:
As you can see, you easily filter tags. To modify one, just click on it: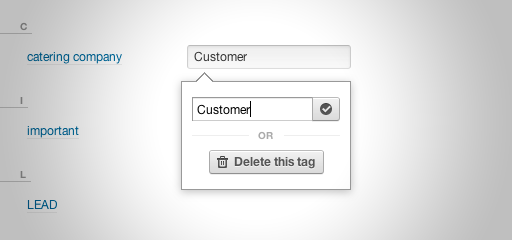 That's it! The interface is very simple — the real beauty is what happens behind the scenes!