Time reports is one of the top feature requests in Apollo. While we can assure you that we are working on bulk actions on time reports (so that you can mark several of them as billed, for example), we are also enhancing the time reporting abilities in Apollo.
In Apollo, it has always been possible to log time on a project "as a whole", rather than on a specific task. The same didn't apply to contact and contact tasks: you had to log time on a contact's task, rather than the contact itself.
This has now changed: you can now log time directly on a contact, without specifying a task. There are two ways to do this:
1) You can start a timer from the contact itself (by clicking on the little clock next to it).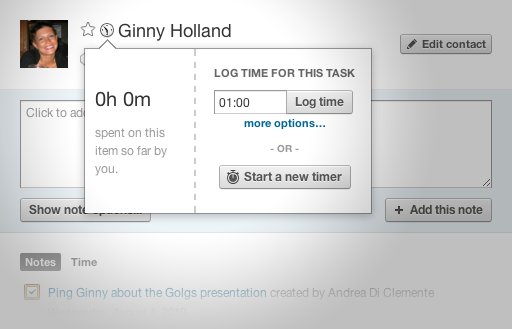 2) When you save a time, you can attach the logged time straight to the contact (before now, you had to pick a task associated to the contact).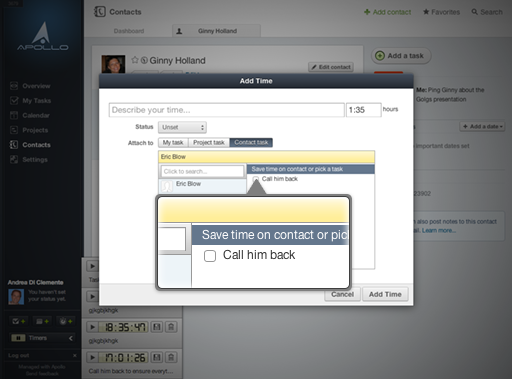 Reporting has also improved. You can view all time logged against a contact by clicking on a tab underneath the contact information: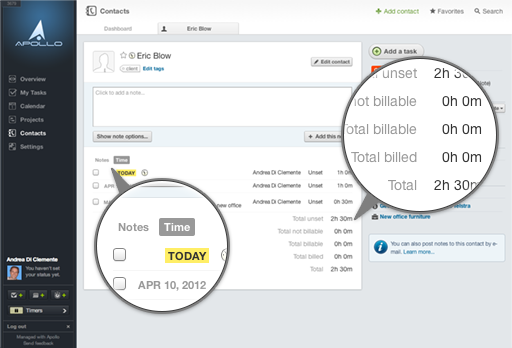 Note that the report will also include time logged on contact tasks.
This is welcome news to all our users who use Apollo to bill their customers and want to have more flexibility in terms of how the time can be logged. Also, the contact-wide report will allow you to invoice contacts based on the time spent on them.
We will obviously expand Apollo's ability to report times (for example, we will also add a "Time" tab to the contacts section).
Stay tuned!