Interaction between programs is crucial — especially in the Internet era, where lonely desktop programs are the dinosaurs, and online services can all communicate. An area where communication is especially important is calendars: people want to be able to check their appointments on their phones, and add them on their PCs for example. iCal is a great standard to synchronise different calendars in different locations. This is why Apollo now fully supports iCal.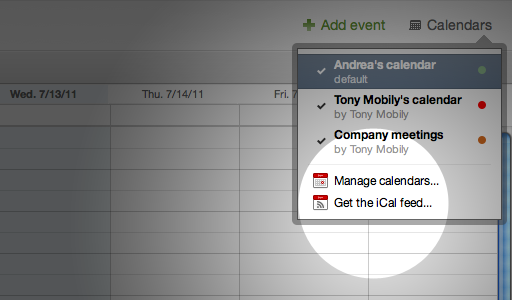 In Apollo, each user gets an iCal feed which includes what they see in their Apollo calendar. This means that calendars not currently shown won't be included in the feed.
Each user has a unique calendar feed URL. From the Calendar section just click on "Calendars" and then chose "Get your iCal feed". This is what you will see:
At this point, "Get your iCalendar feed" will link to your iCal feed. Note that the URL for the feed is non-guessable, and that anybody with this link will be able to read your feed.
You are able to change the URL for the feeds by clicking on "generate a new URL if you need to", in case too many people know your iCal feed's address and you want to start over again with your sharing.
Let us know if you have any issues -- we are here to help!