Apollo makes your life easier, by giving everybody a simple view of the "big picture" for any project. For this to work, it's important that everything about the project is kept inside Apollo. Apollo's brand new email integration makes this much, much easier. Let's have a look:
You can reply to comments to tasks by email. When somebody comments on a task, the receiving users can now simply hit "reply" knowing that their reply will become a comment to that task. Yes, it's that easy! Our users often told us how their customers weren't keen on logging into Apollo to add comments to tasks. They would go as far as replying to that comment with a private email. This is understandable, as the most natural action to respond to a comment that came by email is to simply hit "reply". Well, "reply button it is", you could say! Blackberry addicts will also find this very useful.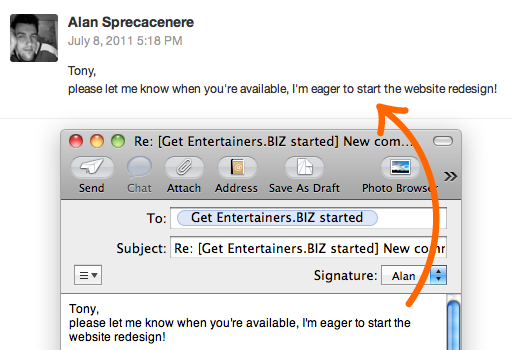 CRM users can add notes to contacts by email. Each CRM user has a special, unique dropbox email address — you can find out by simply opening any one contact. If you have a contact called "jane@domain.com", for example, you can email her directly and have your Apollo dropbox address in Bcc (Blind Carbon Copy). This way, that email will automatically become a note to that contact; the note's title will be the email subject, and the note's body will be the email body. If you forget to Bcc your contact, don't despair! You can still forward the email to the dropbox address: Apollo will figure out the To: field from the forwarded email, and will attach the note.
You can add notes to cases & deals by email. Email integration also extends to cases & deals: each CRM user has a special, unique dropbox email address for each case and deal in Apollo. Just like it happens for contacts, just visit the case/deal's page to find out its dropbox address unique to you. At that point, you will be able to send that address an email, which will become a note to that cases or deal (again, email subject and body will become the note's subject and body).
You can create project messages by email. There's more: each internal user gets a special email address for each project they can access. Email sent to this address will automatically convert into a project message (again, the email's body and subject will be used for the message's body and subject). Note that everybody who can access the project will automatically be subscribed to your message.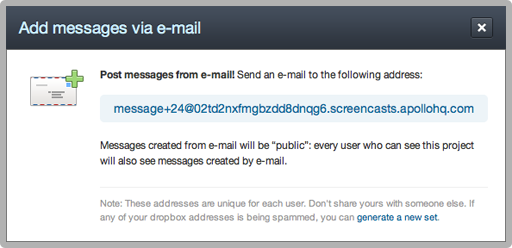 You can also attach files any one of your emails — if you do, any attachment will show up in Apollo as well.
This is a major featureset in Apollo. As I wrote above, it was one of the most requested features we had — our users can now enjoy it.
Enjoy!