Hello eveybody,
one of the requests we kept receiving very often, lately, came from users who spend more time in the CRM side of Apollo.
As you know, you can already search for your contacts in many ways in Apollo: let's see them, also as a benefit for new users: there's the free search, which will do a realtime substring match in the Name, Surname and Company fields; there's the search by tags, where you can also drill down and filter on a combination of more than one tag; there's the search by field, where you can search by the value of any combination of the various fields available on contacts; and finally, there is (I should say "there was"!) the View select box.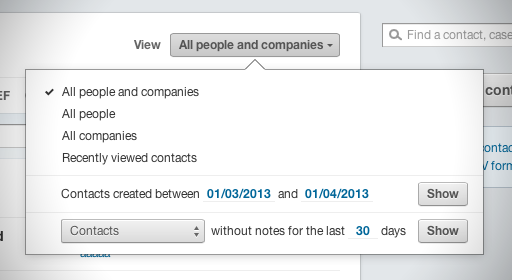 With the View select box you could choose one of these simple presets: the default 'All people and companies', 'All people', 'All companies', 'Recently viewed contacts', and 'Contacts without notes in the last 30 days'.
The main feature requests were: to be able to know the date the contact was created, and a way to filter on this date, and more flexibility with the other filters based on dates.
Internally, we already kept track of the contacts creation date, which we used to do aggregate stats on contacts growth rates, so this was an easy fix. Then, we also replaced the simple select box with this bigger panel, which mimics the old one but it's far more flexible.
In this new panel, the first 4 choices act like a menu: that is, they only require the usual click to be activated. The other ones, even though they have default values, let you customize the filter by clicking on the blue fields.
In this way, you'll be able to pick any period of time for the 'Contacts created between' filter, and any number of days for the 'Contacts without notes in the last X days' filter.
Enjoy!