Hi there,
Looking at Apollo's usage log, we are discovering interesting things and usage patterns. For example, more and more people are using Apollo for time tracking.
As you probably know, in Apollo you can log time and attach it to a project, a task or a contact.
A lot of users asked us for an easy way to see all time entries for a specific task; this could be for billing reasons, for example, or just to keep an eye on things.
We added this to Apollo: you can now see exactly what time entries were logged towards as specific task by expanding the right section underneath a task: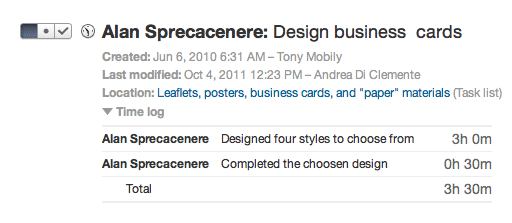 Keep in mind that you need to open up a task on its own to access this section.
As always, keep sending your requests — we listen to everybody!