House renovation can be much more stressful than building a new house. While with building from scratch always gives you the benefit of having a company managing the whole process professionally, with home renovation you are on your own. Here is how you can use Apollo to do that. Please note that while this article focuses on the need of one person renovating their house, it could well be applied to people who coordinate house renovations as a job.
House renovations are a bit of an adventure. The main challenge is that you end up dealing with several people who are often computer illiterate.
Here I will assume that you will contact several people, each one specialising in a trade. Here is the list:
Interior designer
Carpenter
Electrician
Plumber
Decorator
Tiler
The users
You will first of all need to work out who, amongst these figures, will be able to read emails and answer to them. (in most cases, I wouldn't recommend trusting them to mark things as done unless they clearly say that they are computer literate).
In some cases, things are a little tricky because you might work with a company who does tiling, rather than a person. In such a case, you will be on your own — and will need to make sure you mark things as "done" yourself.
It will definitely help if you add these users as "external users" for external companies making sure that their trade itself is in the company's name (for example, "Martin Major Interior Designer" could be an external company).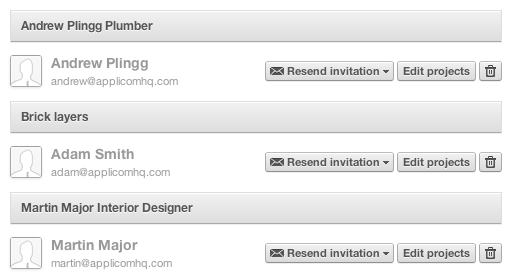 The milestones
The milestones should tell you the status of the works. In a typical building process, the stages would be:
Planning completed
Obtain permissions if required
Obtain quotes
Get the works done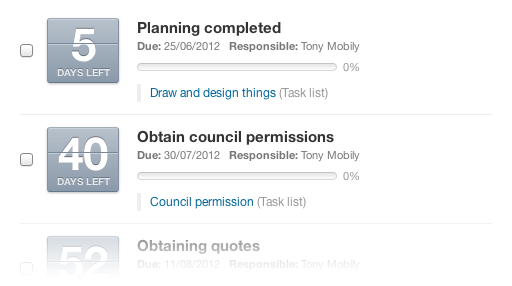 That way, you will be able to see how things are progressing.
The task lists
The task lists will depend on the work you need to do. While it's possible to forecast the type of milestones you will need to see exactly what needs to be done to your place in order to write the right task list. Here is an example if you have to work on the house's bathroom and kitchen:
Task list: draw and design things

Get new kitchen drawn up
Get new bathroom drawn up
Decide on flooring for the kitchen

Task list: government permissions

Ask Water Corp if new house diagram needed
Ask council if they need new plans for bathroom

Task list: quotes

Tiler for bathroom
Electrician for rewiring the kitchen
Carpenter for cabinets and benches in kitchen
Carpenter for cabinets in bathroom
Plumber for bathroom
Plumber for kitchen
Painter for bathroom and kitchen

Task list: Actual work: kitchen

Demolish/take out existing kitchen
Install new kitchen
Get plumbing connected
Get new wiring connected
Tiling job
Get the new kitchen painted

Task list: Actual work: bathroom

Demolish/take out existing bathroom
Install new appliances
Tiling job
Get untiled walls painted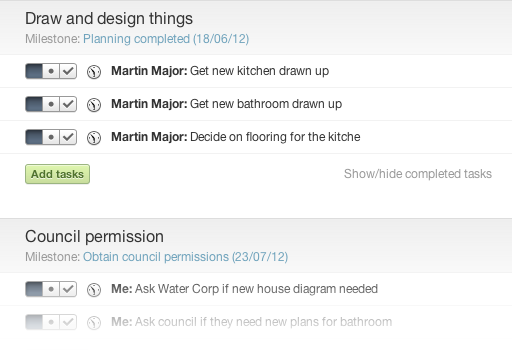 Writeboards
Writeboards in a project that involves renovation is probably a feature you won't be using all that much. If you do house renovations and can think of great ways of using Writeboards, we are here to listen!
Contacts

When dealing with house renovations, the contacts section of Apollo is absolutely perfect to store contacts of material suppliers and contracting companies. When asking for a quote, it makes a lot of sense to create a "deal", where you involve several contacts and finish the deal up when you have made your choice.
Keep in mind that being a contact in the contact list does not mean that they can login into Apollo and see your projects. It does mean that you can track conversations (using Apollo's email integration and BCC addresses) and keep everything in one spot.
The files area
The files area can be kept for two reasons: one is to keep an electronic copy of every invoice you received; and to keep a set of photos where you can see the progress of the works. Apollo's files areas allows you to categorise attachments: having the right category to the file's project will help you keep things in check.
So, having two categories, "progress" and "invoices", will definitely help.
Messages
When you are dealing with builders, the "Messages" section can be really quite tricky: some of them will be computer illiterate, others will be companies.
So, the messages section of Apollo might be useful so that you communicate to other interested parties (family, children, etc.) who would be in the project as "external" users.
Happy building!
Enjoy!