In this blog, I continue my journey in the less-known features of Apollo.
Trick 1: Avoid trailing garbage when replying by email
When you reply by email, Apollo does its very best to eliminate any trailing sentences from your email client. For example, when hitting "reply" in Gmail, this is what happens:
On Mon, Dec 19, 2011 at 17:41, XXXXX/ApolloHQ < notifications@apollohq.com > wrote: === Reply ABOVE THIS LINE to add a comment
If you want to make 100% sure that your reply email is clear of any "On Mon, Dec 19" etc., just out #END at the end of your message: Apollo will not add anything after that.
Trick 2: Find out the contact's details in a contact task
When you open up a contact task, you see:
Location: Tony Mobily (Contact)
To know more details about the contact, you can hover with the mouse on the contact's name and wait two seconds: extra information will be loaded, and displayed, by the system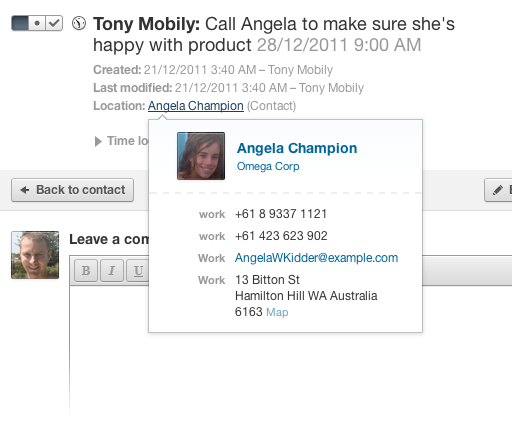 .